As we begin our 10th year, we are excited to share some important news about our company's evolution and how your company may benefit.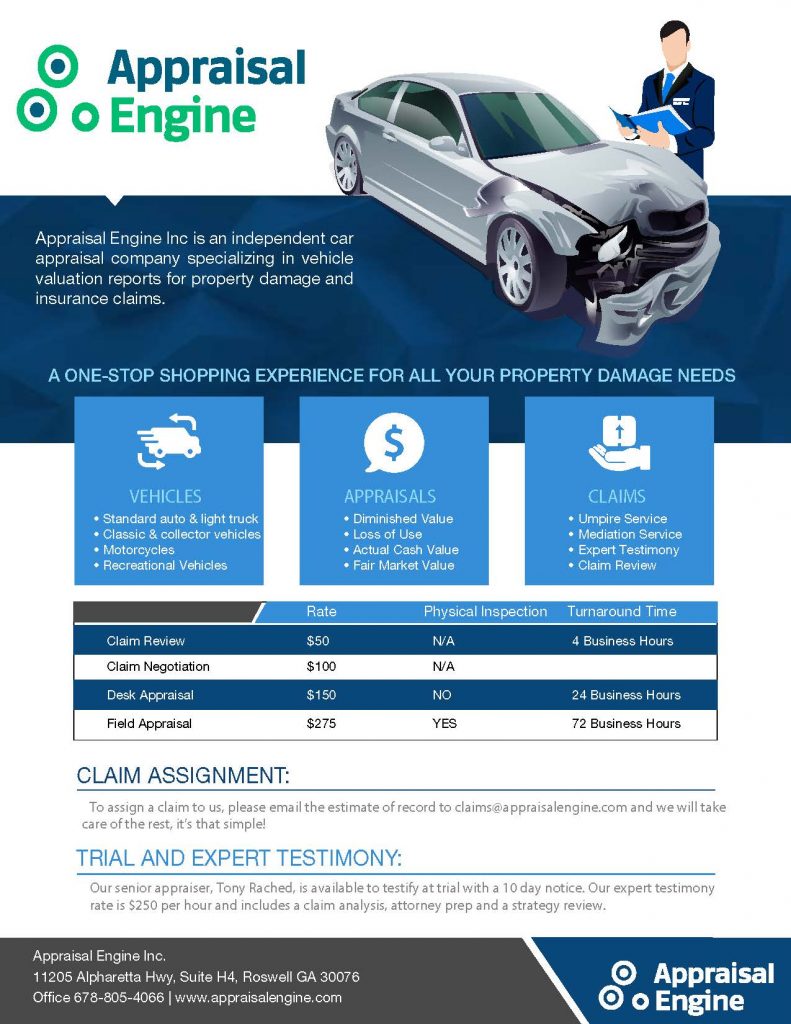 Why Appraisal Engine? 
Last year, our company processed more than 7,500 unique valuation reports, for insurers, attorneys and vehicle owners. Our biggest year to date!
In 2017, Appraisal Engine is poised not only to be an on-demand appraisal company but will also be offering a platform from which you can instantly order a vast variety of valuation reports.
FAST FACTS:
Our settlement percentage on claims was 93%.
Our average Diminished Value appraisal in 2016 was $2,600? If your firm is not handling PD claims, you're missing out on an steady income stream.
In 2016, we had 27 claims go to trial and our expert testimony was instrumental in winning 23 of those cases.
PD Training Sessions
Due to popular demand, we're restarting our property damage training sessions for attorneys and their staff. Attorneys can collect 2 CLE hours for attending our free property damage training session covering the following topics:
Introduction to property damage claims.
The main sections of an automobile policy.
How to read a repair estimate.
What is frame or unibody damage?
What is diminished value and how to compute it?
The 17c formula (Mabry v State Farm).
When is a vehicle a total loss?
Vehicle valuation reports.
History Reports, are they accurate and do we need them?
Demand letters and rebuttals.
To sign up, simply email us and we will schedule you in. The earliest available session is March 23, 2017.
2017 Appraisal Pricing
Our 2017 pricing is very competitive with other appraisers in Atlanta, our company continues to deliver a consistent and premium product with faster turn-around time and the best support in the industry.
Assignments:
You can send us appraisal requests by email. For immediate assistance, please email me directly at tony@appraisalengine.com.
You can also call  my cell directly with any questions or concerns you may have.
We can't wait to help you settle more claims in 2017.
Sincerely,
Tony Rached
Licensed Appraiser
Cell: 678-677-5496