As a result of Volvo Cars USA's increased sales in February, the company reported that a total of 8,560 cars were sold in the United States. The company sold 16,253 cars in the first two months, an increase of 22 percent. The company seems to have finally resolved supply issues and is now able to concentrate on sales and electrification, both of which are progressing well.
Volvo sold 2,436 plug-ins in February, representing 45% more than a year ago and 28.5% of total US sales. Due to supply chain constraints, sales in February last year were negatively affected by lower production.
Also, sales of all-electric cars increased by 75% year-over-year to 973 and were above 10 percent share for the fourth consecutive month, reaching 11.4% last month. Considering there are only two BEV models on the market, the XC40 Recharge and C40 Recharge, those are excellent numbers.
Volvo plug-in car sales
Units sold – Feb 2023
Year-over-year 
Share
BEVs
973
+ 75%
11.4%
PHEVs
1,463
+ 32%
17.1%
Total Recharge
2,436
+ 45%
28.5%
Volvo Recharge Sales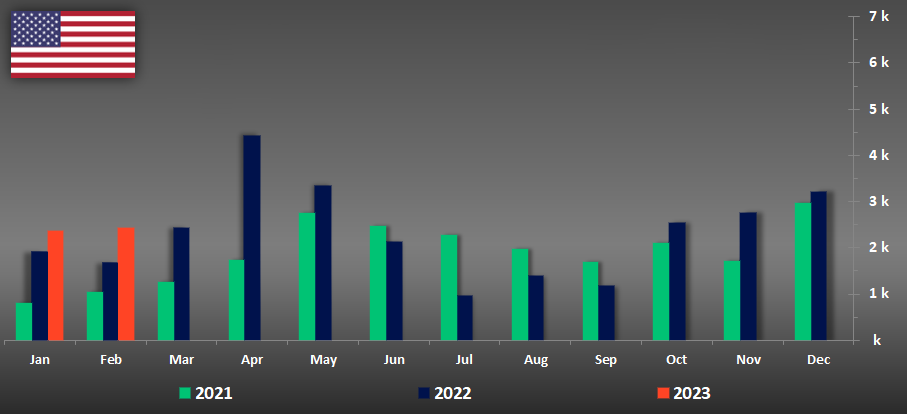 Volvo has sold more than 4,800 plug-in electric cars in the US this year, up 34 percent from last year, or roughly 30 percent of the total.
Volvo plug-in car sales year-to-date in 2023
Units sold
Year-over-year 
Share
BEVs
1,744
+ 77%
10.7%
PHEVs
3,062
+ 18%
18.8%
Total Recharge
4,806
+ 34%
29.6%
In the course of 2022, Volvo sales increased by 22% compared to 2021. Furthermore, in Canada, sales of plug-in electric cars improved by 65% from the previous year and amounted to 44% of total sales.
Volvo offers only electric and hybrid models in the US, including two BEVs, the XC40 Recharge and C40 Recharge. A new all-electric Volvo model, the EX90, will join the lineup in the near future. 
Worldwide, Volvo's XC60 was the top-selling model in February, selling 16,088 cars (2022: 13,503), followed by the XC40, which sold 15,398 cars (2022: 12,611), and the XC90, which sold 7,114 cars (2022: 5,582). The automaker is aiming to achieve 100% electric vehicles for its global sales by 2030. In addition, it also aims to increase its annual sales to 1.2 million units.